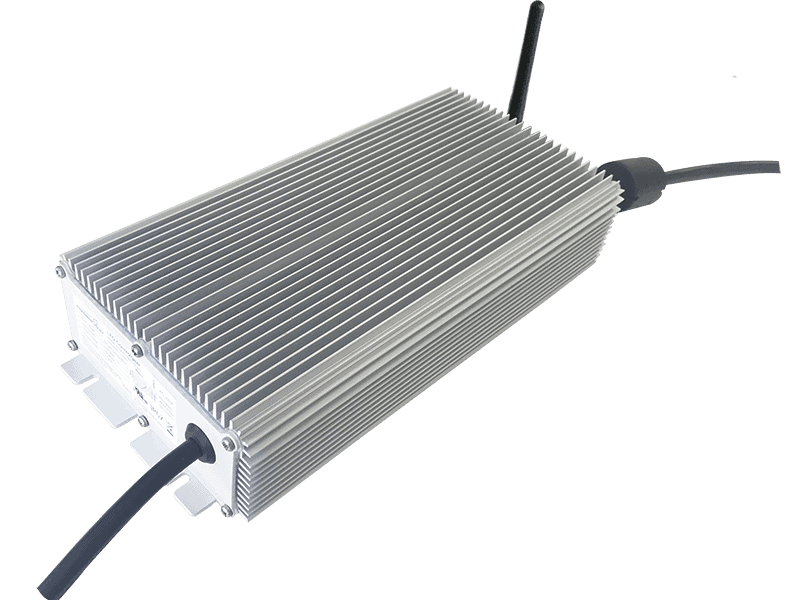 The "ICE" family of LED drivers from GWP-Powerland Technology Inc., a Division of Powerland, is an ultra-high-efficiency LED driver series targeted toward outdoor lighting like horticulture, fishing, sports, and other outdoor LED applications. The output programmability and wire controllability through optional Bluetooth or ZigBee makes the system solution very flexible.
Powerland's patented energy conversion technology boosts the efficiency to an unprecedented level at 97%. Plus, the driver has a long life time at 70,000 hours at the operating temperature of 75°C. These LED drivers are built with an ingress grade at IP67, and all-around protections such as short circuit, over voltage, over temperature, and 5.5kV/11kV lightning protections.
Specifically designed for North America's high AC input applications, the "ICE" family of drivers features various input options with 108~305Vac, 240~382Vac, 277~460Vac, and 305~660Vac. The detailed specifications can be seen at https://greenwattpower.com/product-category/led-drivers/high-power-led-drivers
The ICE-305 series has an output power up to 720W. With a 108~305Vac input voltage range, it is one of the most versatile drivers in its class, with both constant current and constant voltage mode programmed through either wire or optional Bluetooth/ZigBee wireless connections. It is the only driver series in the world that can serve either constant current or constant voltage by the same unit.
The ICE-347 series covers input voltages up to 382Vac. It has an inherent unprecedented efficiency – as high as 97%. With a 240x123x54mm dimension and 2.9kg weight, it is the smallest and lightest driver for 347Vac input applications.
The ICE-400 series is designed and manufactured for EU applications. With 600/720W output and 277~460Vac input capability, it also features the highest efficiency at 96% in its class at 400Vac input applications.
The ICE-600 series is featured with 305~660Vac input and power rating of 600 or 800W. It is the only series in the world that is capable of operating in 600VAC applications. This capability ensures unparalleled reliability and robust endurance in the most rigorous grid situations, comparing with other state-of-the-art 480Vac LED drivers.
Summary of Powerland's "ICE" family of LED drivers features:
CC/CV programmable
Isolated auxiliary 12V output (optional)
Unprecedented efficiency: 97%
Isolated dimming signals
Bluetooth and ZigBee versions optional
Compatible with 0 (0.05)-10V, PWM, external resistor, clock dimming
Compatible with DMX (upon request), ultra-deep dimming down to 0.5%
Ultra-high input voltage up to 660Vac
> 70,000 hours lifetime at 75oC Tcase
> 7 years warranty at 75oC Tcase
Min. operating temperature @ -40oC
Safety designed according to UL8750 & EN61347-2-13
Surge voltage rating: L-N 5.5kV, L/N-Earth 11kV
EMC according to FCC Part 15 Class A
Lightning, OVP, SCP, OTP & Open Circuit Protection
For more information, please contact GWP-Powerland North America at 1-310-881-3890 Ext 1 or sales@greenwattpower.com. Sampling for all ICE series models are available upon request.
Editorial contact: Moin Ahmad: 310-881-3890 Ext 2 or moinahmad@powerlandtech.com