Sept. 7, 2023.  Green Watt Power, a division of Powerland Technology, Inc. announces new models to support lower voltage batteries like 48Vo.  The EVC3500 Ruby Series of ruggedized AC chargers supports Lithium Ion batteries in Electric Vehicle (EV) applications  like material handling, motorcycles, scooters, forklifts, and e-carts.  The Ruby Series now can handle battery voltages anywhere from 35~420Vo and currents from 10A up to 60A.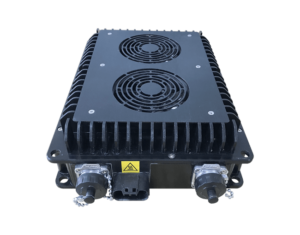 The high-density profile design allows easy mechanical integration into a variety of form factors and has options for either fan or liquid cooled designs.  The standard overall dimensions of the fan/liquid-cooled EVC3500 version is 240 x 187 x 70/44mm (9.45 x 7.36 x 2.76/2.71") with a weight of only 5.25/4.95kg. The rugged package is designed for high power density and thermal efficiency and is fully potted to operate in high-stress environments and suitable for IP66 rating.
This 3.5kW charger with a typical Power Factor Correction (PFC) of 0.99 and an universal AC input range of 90-264V, is able to handle a wide range of worldwide standard wall power input voltages and frequencies with efficiencies up to 93%. The frequency range is 47 to 63Hz.
The charger has CAN communications for unit status and control with  full set of protection features including OVP, OCP, SCP, OTP, RPP and UVLO.  The turn-on Delay at full load is 5s max. The operating temperature has a range of -40 to +60⁰C with a storage range of -40 to +85⁰C. The EVC is designed to meet UL/CSA, TUV and EN55032 Class B.
Units are available from stock to 8 weeks.  For more information, please contact Green Watt/Powerland North America at 1-310-881-3890 or sales@greenwattpower.com.  For more information on the Ruby series EVD3500 go to https://greenwattpower.com/wp-content/uploads/Datasheet-EVC-3500.pdf or to the Green Watt Power website:  http://www.greenwattpower.com
Editor: Claude Abacherli.  Contact: Dave Hage – davehage@powerlandtech.com – +1-805-444-2292.