Aug. 10, 2023.  Green Watt Power, a division of Powerland Technology, Inc. announces the EVD500 Marble™ Series of fully encapsulated, IP67 ruggedized DC/DC converters for Electric Vehicle applications. The EVD500 has two DC input ranges, with output voltages for 12V and 24V batteries to power auxiliary EV functions such as lights, instruments, accessories, etc. In addition, unlike most DC/DC converters in the EV market, the EVD500 has a constant current function, so it can connect directly to a battery load. It also features Enable/Remote on/off and superior low battery conservation with a Quiescent Current draw of less than 30uA.
The EVD500 Marble™ Series is fully input-to-output isolated and protected by, Input Under Volage Lockout, Reverse Polarity, Over Voltage, Short Circuit and Over Temperature Protection.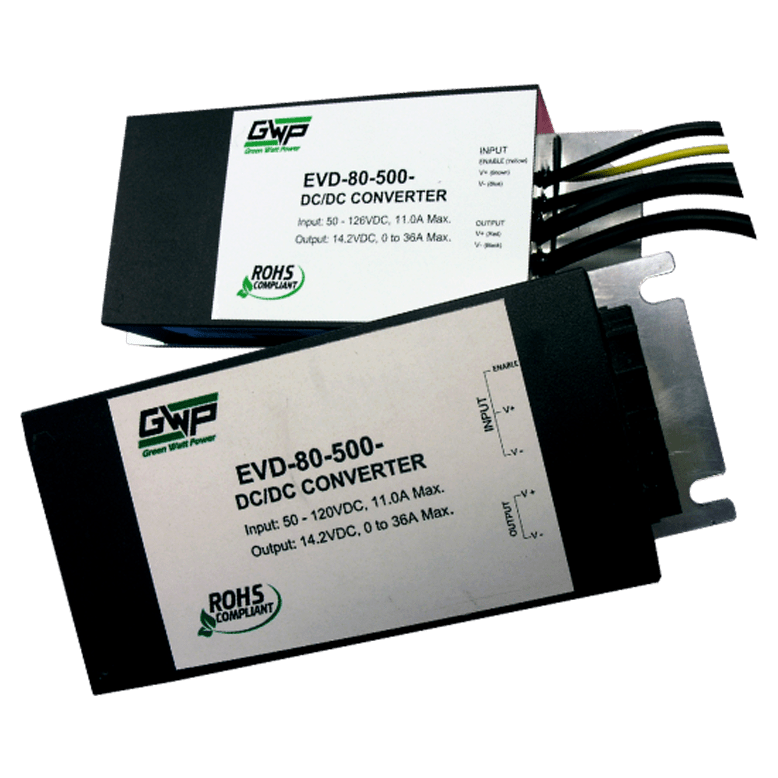 Top Features:
DC Input Ranges of 30-65V and 50-130V
DC Output Voltage of 13.5V or 27.5V
Output Power of 500W to 5000W with Parallel
Connection of Up to 10 Units
High Efficiency of Up to 93%
All-Around Protections: IRPP, UVLO, OVP, SCP, OTP
1.5kV Input-to-Output isolation Test Voltage
Designed to Meet IEC, UL, CSA Safety Requirements
Wide Working Temperature: -40oC to +85oC Tc
Available with Molex Connector or Flying Leads
IP67 Ingress Protection Rated Enclosure
Industry Standard Size and Footprint
Through advanced automation manufacturing facilities, Green Watt Power is able to provide the highest quality products for the lowest possible cost.  Units are available direct and from DigiKey with lead times from stock to 8 weeks.
For lower power Marble™ Series variants, additional output voltages, plus other isolated or non-isolated single & dual outputs from 40W to 66kW please contact Green Watt/Powerland North America via the Green Watt Power website: http://www.greenwattpower.com contact us at +1-310-881-3890 or sales@greenwattpower.com. For datasheet and more information on EVD500 Marble™ Series go to http://greenwattpower.com/product/500-watt-dc-dc-converter/
Editor: Claude Abacherli.  Contact: Dave Hage – davehage@powerlandtech.com – 805-444-2292.