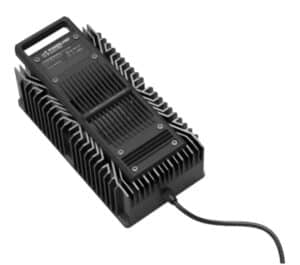 Green Watt Power, a division of Powerland Technology, Inc. announces the EVC-700 Series to it's of Opal Series of fully-potted, ruggedized chargers for Electric Vehicle (EV) applications. The EVC-700 Model is specifically designed to charge Lithium-Ion battery systems in motorcycles, scooters, carts, fork lifts and other mobile applications.
This model is specifically designed for batteries have need to be limited to less than 60V, typically 48V-type batteries with a range of 30.0~58.8V. The standard overall dimensions is only 8.2×4.3×3.0" (209x110x75mm) and can include a handle for easy portability. The unit is designed for high-power density and thermal efficiency and include a fan and only weighs 2.7kG.
CAN bus communication is a standard feature for unit status and control and the charger has universal input range of 90 to 264VAC, able to handle wide range standard of worldwide wall power input voltages and frequencies. The input frequency is 47 to 63Hz.
Typical efficiency is 92% with high-input voltage with Power Factor Correction (PFC) at  0.98 with 110VACin and 0.97 at 220VACin. The Turn-on Delay at full load is 3s max.  Each unit is protected by Short Circuit Protection with auto recovery, Over Voltage Protection and Over Temperature Protection.
The operating temperature range is -20 to +50ºC. The storage range is -15 to +85ºC. The unit is rated for IP65 for the enclosure. The EVC-700 is designed to meet UL1564 and CE and EN60335. If needed, Green Watt Power can modify the unit as needed to meet each application's unique requirements.
Units are available from stock to 8 weeks.  For more information, please contact Green Watt/Powerland North America at 1-310-881-3890 or sales@greenwattpower.com.  For more information on the EVC-700 go to https://greenwattpower.com/wp-content/uploads/Datasheet-EVC-700.pdf