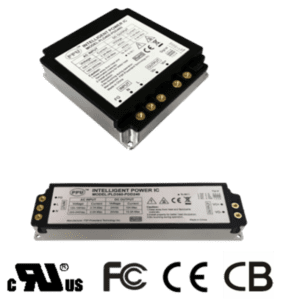 Oct. 20th, 2022: Powerland's "Caesar" series 360W AC/DC module is featured with high-power density, high efficiency, and high reliability. This series has a very low-profile design at only 25.5mm. The "Caesar" series supports natural cooling without a fan and 1+1 redundancy with dual current-sharing modes integrated analog and digital current-sharing.
The Caesar series is best suitable for system applications need high reliability, high-power density, and high efficiency, such as industrial, LED displays, robotic, electric power, and railway applications.
With a leading class power density of 27W/inch3, the Caesar Series have two different configurations for customers to choose from: 93 x 98 x 27.5 mm or 182 x 48.6 x 27.5 mm.
Summary of features:
AC Input Voltage: 90~264Vac
DC Input Voltage range from 100~400Vdc
Output Power: 230~400W
Isolated Input/ Output design
Easily parallel for power scalability and redundancy
High Efficiency: Up to 95.5% @ 220Vac
All-Around Protections: UVLO, OVP, OCP, SCP, OTP
Ultra-High Power Density: 27W/inch3
Wide Working Temperature Tc: -40oC~80oC
IP60 Ingress Grade
Power Boost with Additional Heat Sink
Units are available from stock to 8 weeks.  For more information, please contact Green Watt/Powerland North America at 1-310-881-3890 or sales@greenwattpower.com.  For more information on the EVD360 go to https://greenwattpower.com/wp-content/uploads/Datasheet-EVD-360.pdf or the Green Watt Power website:  http://www.greenwattpower.com
Editorial Contact: Dave Hage – davehage@powerlandtech.com – 805-444-2292